兒童聖經歡樂營 Children Summer Bible Camp 2023
Monday, August 14, 2023 - Friday, August 18, 2023
SATCC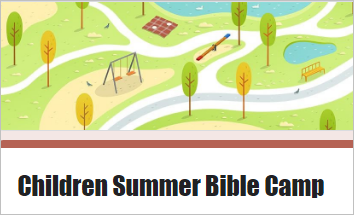 [5月19日更新]
領袖訓練營名額已滿。申請截止。
繼續接受兒童歡樂營報名及義工申請。
[May 19 Update]
Leaders in Training Camp (LIT) - Full enrollment. Not accepting further registration.
Continues accepting registration for Children Campers and Volunteers.
本年度兒童聖經歡樂營將於 8月14日至18日舉行。
6 至 12歲可以參加歡樂營
13 至 14歲可以參加領袖訓練營
15歲 或以上可以申請成為義工
本堂教友可優先於 5月13、14 日報名。5月20日開始接受非本堂教友報名。報名表格請到聖物部索取,填妥後請交回聖物部。
歡樂營及領袖訓練營截止日期 6月4日。義工申請截止日期為 6月30日。名額有限,請從速報名。
---
Children Summer Bible Camp will be held on August 14 to August 18 this year.
Children 6 to 12 year-olds may register for Summer Bible Camp
Children 13 to 14 year-olds may register for Leaders in Training Camp (LIT)
Students aged 15 or over may register as volunteers
Priority registration for our registered parishioners will begin on May 13/14; and registration for others will begin on May 20. Registration forms can be obtained and returned at the Religious Articles Counter.

Space is limited. Registration deadline for Summer Bible Camp and Leaders in Training is June 4 2023. Volunteer registration is June 30, 2023.

}