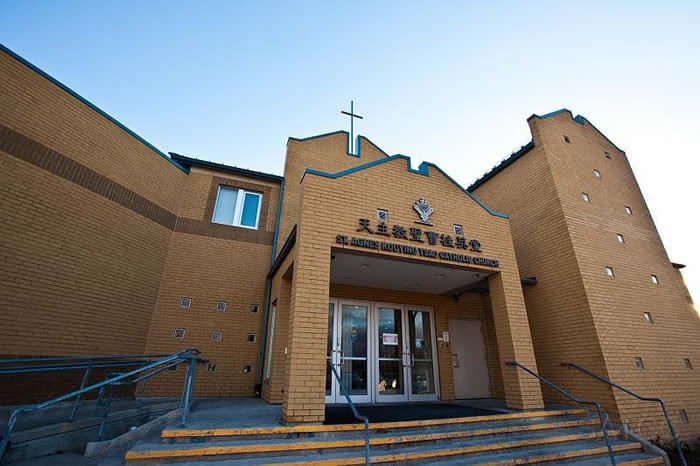 聖堂地址 Parish Address
2130 Rodick Road, Markham, Ontario, Canada L6C 1S7
Tel: (905) 887 - 7922 Fax: (905) 887 - 7933
Email: admin@saintagnestsao.org
辦事處開放時間 / Parish Office Hours
[7月16日通告]
為了保護大家的健康與安全,同時為抑制新冠病毒的傳播,我們在安省進入重啟經濟階段期間,教堂開放時間如下:
星期一
星期二 及 星期四

7:30am—1:00pm 及 6:00pm—8:00pm

星期三 及 星期五
星期六

7:30am—9:00am (殯葬與婚禮除外) 及 3:00pm—8:00pm

星期日
主佑平安!
---
[July 16 Update]
In order to protect the health & safety of parishioners and prevent the spread of Covid-19 during Ontario's reopening plan, we have revised the church opening hours as follows:
Monday

Church closes after the 8:00am Mass

Tuesday & Thursday

7:30am—1:00pm and 6:00pm—8:00pm

Wednesday & Friday
Saturday

7:30am—9:00am (except Weddings & Funerals) and 3:00pm—8:00pm

Sunday
May God bless you and grant you peace!
新教友登記表格 / New Parishioner Registration
堂區歡迎新到本堂之新教友,請到辦事處填報登記表格。
教友地址如有所更改,煩請通知堂區辦事處。
We welcome new parishioners. Please register at the Parish Office.
For change of address, please inform the Parish Office as well.
[ 按此可下載登記表格 / Downland Registration Form here ]
---
​自動轉帳捐款計劃 / Pre-Authorized Giving Plan
有興趣參加多倫多總教區推行的自動轉帳捐款計劃的教友,請到堂區辦事處查詢詳情及索取申請表格,填妥表格後連同報廢支票 ("VOID" cheque) 交回堂區辦事處。
Parishioners who are interested in enrolling in the Pre-Authorized Giving Plan are requested to visit the parish office for more information and registration.
[ 按此可下載申請表格 / Download Enrollment Form Here ]
---
彌撒、敬禮、告解等時間表
Mass, Devotion & Confession Schedule... [ See Details ]
主日提前彌撒 Saturday Vigil
主日彌撒 Sunday Mass
平日彌撒 Weekday Mass
堂區朝拜聖體日 Parish Adoration Day
首瞻禮六耶穌聖心敬禮 Devotion to the Sacred Heart of Jesus
告解時間 Sacrament of Reconciliation
---