OMG? No, it's OMT. What is OMT?
It is the abbreviation for Operation & Maintenance Team of St. Agnes Kouying Tsao Catholic Church. It's one of the parish activity groups within the pastoral structure. Its main function is to provide general guidance, assistance and support to the general operation of the parish office and the overall supervision and maintenance of parish property, furniture, appliances and equipment.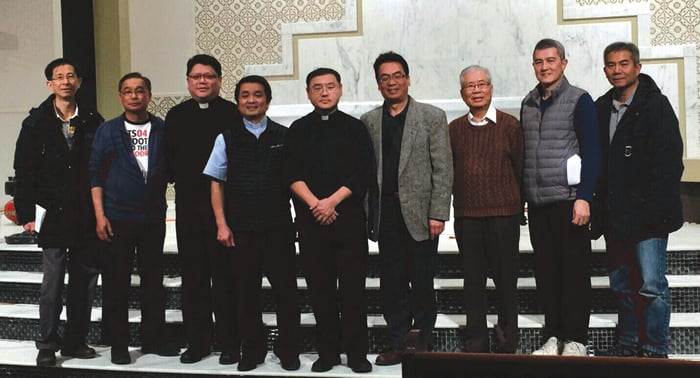 OMT members are appointed by the Pastor. Meetings are generally held in the evenings on the first Wednesday of the month on a bi-monthly basis. The pastor, associate pastor Sr. Magdalena Yang and the secretary of the parish will also be present. The topics for discussion at OMT meetings cover a wide range of subjects from the changing of a light bulb in the church to the provision of shuttle bus service.
Some of the noticeable work undertaken by OMT includes, inter alia, the complete facelift of the sanctuary wall and niches of the tabernacle and the baptismal font in 2012; relocation and conversion of rectory into conference/classrooms in 2012; installation of a parish information media TV set at the church narthex in 2012; installation of projectors and screens in Ruggiero Hall and the second floor conference hall (former rectory) in 2014; the installation of projectors and screens inside the church in 2015, and annual fire drill.
Most of the tasks undertaken by OMT are not so noticeable, such as regular maintenance of the heating & ventilation, lighting, and audio & video systems; reparation of church pews and furniture; seasonal change of colour of banners in the church; painting of ceilings and walls; placing orders for lawn maintenance and snow removal; provision of assistance for all parish activities such as bazaars, Chinese New Year celebrations, fund-raising variety shows, parish parties and more.
In celebration of the 25th anniversary of the parish OMT has (a) beautified the sanctuary floor by replacing the carpet with quartz marble; (b) re-constructed the pylon sign at the entrance of the church with LED digital full colour double side display; (c) improved the sound quality of the audio system; and (d) upgraded the church security system by adopting H.D. cameras.
OMT members come from all walks of life. Their work entails the knowledge and experience of management, engineering, legal, and human relations. The work is very interesting and full of challenges. New members are always welcome. Please come and see.
For inquiry, please contact: stagneskouyingtsao@archtoronto.org
Contact person: Francis Luk