各位主內的兄弟姐妹,
彌撒聖祭
由於疫情的緣故,教堂無法舉行公開彌撒。為了大家能夠參加主日彌撒,堂區為大家提供網上彌撒。歡迎大家在家中按時收看,參予彌撒聖祭。
粵語彌撒 (直播) - 上午10點
國語彌撒 (直播) - 上午11點 15分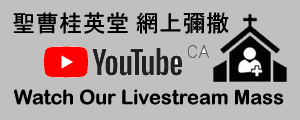 施放聖體
同時,聖堂於每星期六及星期日下午 3時至 5時給教友施放聖體。
由於只能容許 10人在教堂內,包括神父及服務人員, 故每 15分鐘時段內,只可讓 8 位教友領聖體。
請教友連接 Eventbrite 網站 預約時段。每週逢星期二,上午 10 時開放網上登記。 預約時段。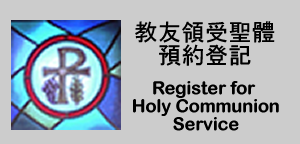 主佑平安。
羅秀彪神父
---
Dear Brothers and Sisters in Christ,
Sunday Mass
Due to covid-19 pandemic, our church will not be open for in-person public masses. In order for everyone to celebrate Sunday Masses, the parish will offer online mass for all parishioners. Everyone is welcome to watch on time at home and celebrate the Holy Mass.
Cantonese Mass (Livestream) - 10am
Mandarin Mass (Livestream) - 11:15am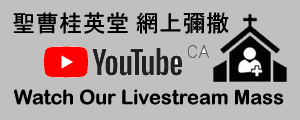 Holy Communion Services
During this lockdown period, our Parish will provide Holy Communion Services to parishioners every Saturday and Sunday between 3:00pm-5:00pm.
With the capacity restriction of 10 people inside the church at any given time, which includes priests and staff, only 8 persons are allowed to receive Holy Communion within a time slot of 15 minutes.
Please register through Eventbrite website. Reservation starts every Tuesday at 10:00am.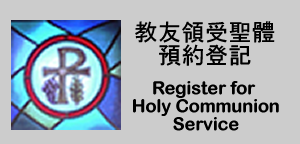 May God bless us and grant us peace!
Fr. Thomas Loh
Parish Pastor, St. Agnes K.Y. Tsao