影音組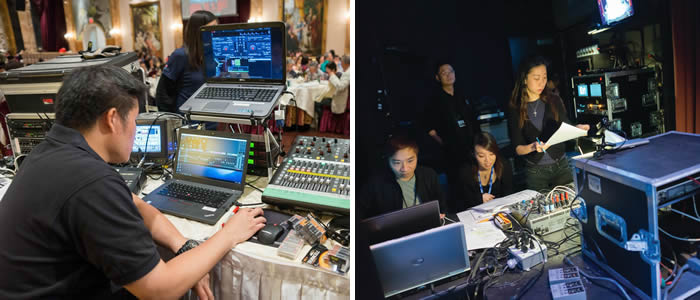 The mission of SATCC's Audio Visual (AV) Group is to support the technical requirements for all SATCC parish-wide events, including both on and off premises locations. We plan, design, and set up customized audio/visual and lighting systems for all parish events.
Some of the parish events may include:
Baptism
First Communion
Confirmation
Chinese New Year Celebration
Bazaar
Parish Anniversary Dinner
Variety Show
Evangelization Night
In addition to our talented sound crew, the AV Group also consists of highly skilled and committed photographers/videographers who document all of SATCC's special events. All event photographs can be viewed and downloaded through our church website.
Thanks to the generous parishioners for their donations, we were privileged to upgrade our audio system and video camera this year. These include new wireless microphone systems, the innovative network-accessible digital soundboard, professional digital media player, and a full HD video camcorder. These new improvements have noticeably and efficiently helped our team to better serve our church.
If you are interested in becoming part of our team, you are welcome to join us. Please feel free to contact us at stagneskouyingtsao@archtoronto.org . This is a great opportunity for those who are interested in learning more about audio/video design, photography and/or videography.