輔祭會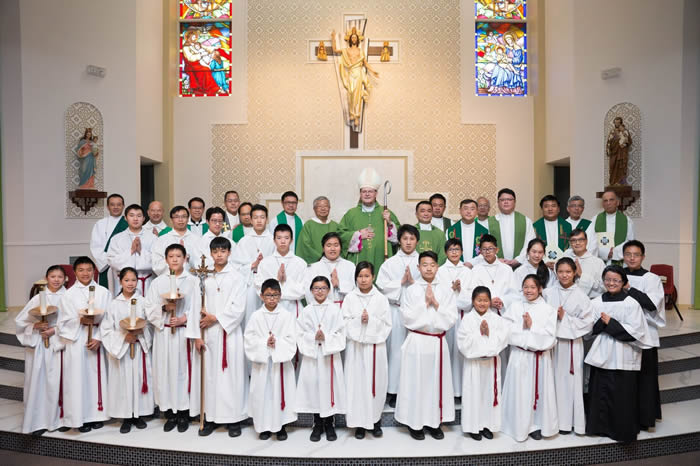 The Altar Servers Ministry has 4 special goals (or seeds) we plant and nurture in the hearts of all boys and girls who serve at the altar of Our Lord:
Help parishioners develop a greater love for God and for the Church.
Develop a good understanding of the Catholic liturgy.
Assist the priest in an appropriate and sacred manner.
Grow in love of service to God and for others, and grow in leadership.
God calls young people to altar serve because He wants them to be close to Him. Servers who have developed these 4 seeds bear much fruit in the Church.
Here are the testimonies of two young Seniors who are models of living a life of joyful altar service to God:
"For the past 8 years, the Altar Server Ministry has shown me not only the ways that Mass is celebrated and also provided the unique opportunity where servers can bond together while performing our role in the Church. As an altar server at St. Agnes Tsao, I am able to meet other people who have the same interest as me to serve our parish and become great friends with them. This experience allows me to strengthen my faith in God while being in a community that supports me in all ways, which I admire most about the Ministry. I would not have been who I am today if not for the fellow servers I have met." - Sharon Lee
"I have been part of the Altar Servers Ministry at St. Agnes Tsao for 7 years. Altar serving has developed my responsibility, leadership, and my faith as a Catholic. Joining the Ministry was a big decision for me since I was uneasy being in front of everyone. I was excited as well because I would be able to get a firsthand perspective of the Mass on the altar instead of the pews. This helped me understand the liturgy a lot more. With the guidance of my Seniors, I learned every job fairly quickly and started to enjoy altar serving rather than being nervous about it. Over my 7 years, I gained more experience and knowledge about the liturgy by serving Easter Masses, Benedictions, Stations of the Cross, and many other special events other than the Sunday Mass. I made many friends within Church and felt like everyone was family. In 2017, I became a Senior and was chosen to receive the Altar Servers Award with two other Seniors. Thus, I was nominated as leader to teach new altar servers what I know from my past experiences to hopefully inspire them to enjoy being a server. Altar serving was definitely a great choice I made, and it has shaped me into the person I am today." - Carter Li

Through serving mass, we develop a greater love for God and develop good understanding of the profound Catholic Liturgy. We assist the Priests in an appropriate and sacred manner during Mass.
We welcome you to be part of us.
For inquiry, please contact: stagneskouyingtsao@archtoronto.org