夫婦同心會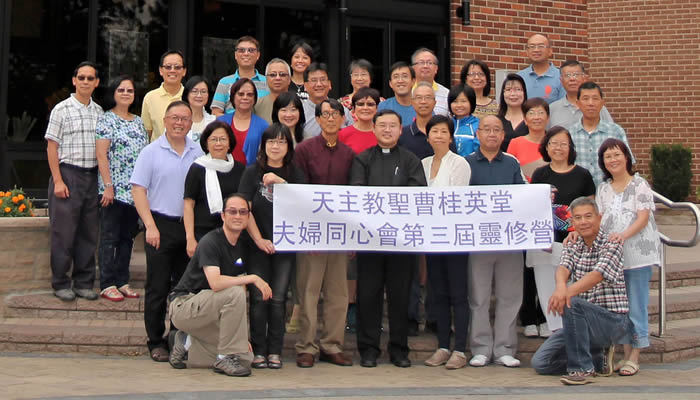 Praise the Lord for the grace that has been bestowed on Ministry of Marriage Life (MML) for the past 6 years. With the celebration of our parish's 25th Anniversary in 2017, we look forward prayerfully to other blessed years to come, then we pause for a moment and remember how it all started. It was an ordinary day in 2011 when Father Francis Chong said, "Come and See…".
Father called for the forming of MML as there was no ministry within the parish designated to serve couples at the time. Father recognized that healthy spousal relationship is the very essence for building a harmonious community. Since 2014, MML has been organizing annual Couples Retreat, and hosting Candlelight Dinners since 2015 in raising funds for the Retreat.
Although it is always challenging to make time in the midst of hectic schedules and pressing responsibilities, couples who attended previous Couples Retreats said the Retreat was quality time well spent with their spouse and a fruitful experience. In the blink of an eye, the 4th annual MML Couples Retreat is just around the corner - Thanksgiving weekend, October 7 to 9, 2017. The Retreat will be directed by Father Thomas Loh, co-ordinated by MML mentors, Theresa and John Lee, and under the guidance of the Holy Spirit. The Retreat is an opportunity for couples to strengthen their unity, to realize the grace in their love and to embrace the blessing in the union with Christ. We all know falling in love is easy, but staying in love takes courage, hard work and grace from God. We all want to be loved, respected, appreciated, and accepted for who we are. Spouses must learn together, work together, and grow together in the relationship.
We thank God for the support of Father Francis Chong over the past 6 years, and are grateful for our mentors' guidance, and the contribution of the MML Family. We believe under the leadership of Father Thomas, and in the light of the Holy Spirit, MML will continue to flourish in the love of Christ. We pray in unity for the courage to love, the strength to forgive, the wisdom to choose priorities, and the enlightenment to a new chapter.
For inquiry, please feel free to contact us at stagneskouyingtsao@archtoronto.org