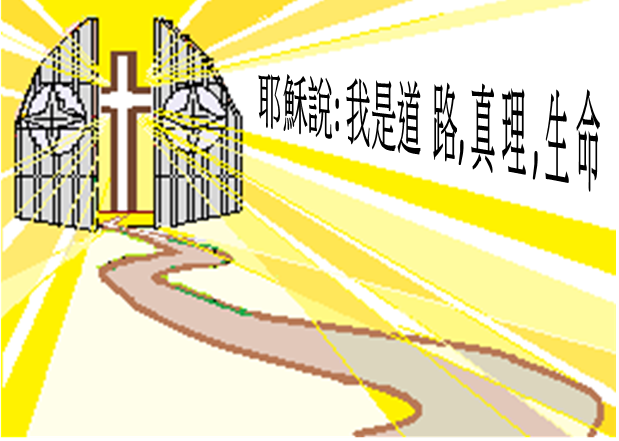 什麼是真理?如何走這路?生命可永恆?
歡迎報名參加慕道聚會
天主 教 聖 曹 桂 英 堂 成人慕 道 聚 會
查詢: Email stagneskouyingtsao@archtoronto.org
電話: (905) 887-7922
報名:
---
基督徒成人入門聖事禮 (Rite of Christian Initiation of Adult 簡稱RCIA)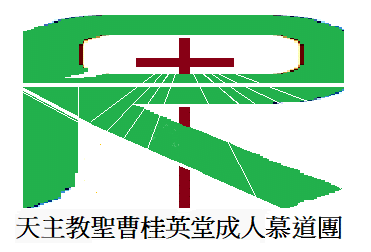 成人慕道團是一個培育信仰和宣講福音的組織。按教會的成人入教禮規,藉聖神帶領下,透過傳道員講解與分享,和慕道者一同探討、認識和理解聖經內耶穌的聖言(即天主的真理),目的是將真理實踐在實際生活中,從而活出真正自由的生活,並明白人生的意義和終向。
「你們先該尋求天主的國和它的義德,這一切自會加給你們。所以你們不要為明天憂慮,因為明天有明天的憂慮:一天的苦足夠一天受的了。」(瑪6:33-34)
在聖經中,耶穌是我們的老師,教導我們能在現世生活中活得更輕鬆。
整個慕道過程為期一年半至兩年。分為四個時期:問道期、慕道期、明道期、習道期。

| | |
| --- | --- |
| | 第一個時期(問道期):在這時期有意慕道的人(問道者)開始探索人生幸福與宗教信仰有關議題,藉傳道員的帶領,讓參加者討論分享。 |
| | 第二個時期(慕道期):問道者表示願意再進一步透過聖經的訊息及教會的教導,認識宇宙的主宰及其兒子、耶穌對人的言行為完成救恩的事蹟 。 |
| | 第三個時期 (明道期):準備有意加入教會,願意成為天父子女,承受救恩的慕道者在耶穌受難與復活的慶典中領受入門聖事 。 |
| | 第四個時期(習道期):這時期是為新領洗者加深體會領受的聖事,經驗實際的效果,並在信友團體的生活、交往和共融中,過天主子女的新生活。 |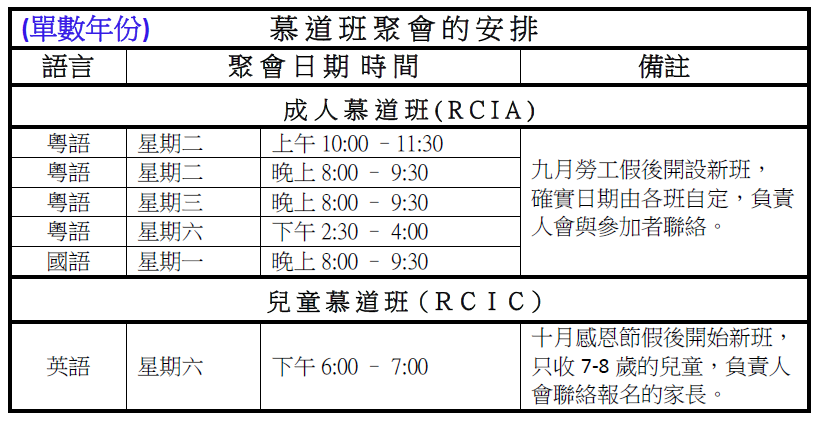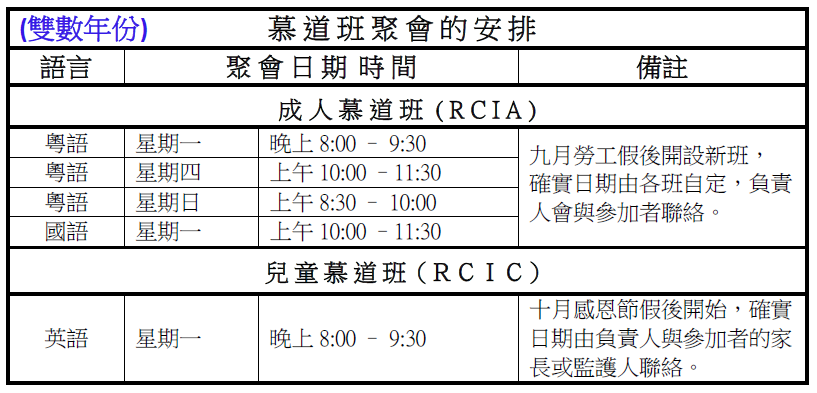 ---
RCIA is the abbreviation for "Rite of Christian Initiation of Adults". It is the process through which interested adults are gradually introduced to the Roman Catholic faith and way of life. Both RCIT and RCIC are under this umbrella, where "T" stands for teenagers (age 12 to 17), and "C" stands for children (ages 6 to 11).
The RCIA Group (formerly known as the Catechetical Group) began to serve our parish in 1992. Our service began with a class of no more than 10 students and has been growing ever since. Today, we have a total of 8 RCIA classes running from Monday to Sunday, 1 RCIT class, and 3 RCIC classes which include both teaching in Cantonese and Mandarin. On average, we have about 100 candidates for baptism each year. The number of catechists also grew from only 2 at the beginning to more than 30 now which include both Cantonese and Mandarin speaking catechists. They are all very qualified and devoted Catholics who volunteer their time to spread the Good News of God.
Our RCIA process takes about two years. It is our experience that Chinese catechumens with little or no exposure to the Western culture will need this amount of time to complete the course with sufficient understanding of the fundamentals of Catholic faith. Catechumens are expected to attend class weekly and the lessons will focus on the Bible, Jesus's life and teachings, and the catechism of the Catholic Church.
Our current mandates for RCIA, RCIT, and RCIC are to start new classes in every September and will receive baptism during Easter period. Application forms and details can be obtained at the parish office.
We always welcome active Catholics to join our team of catechists. If you believe God is calling you to help Him to spread the Good News, please approach any of us or contact the parish office. We will be glad to discuss with you and answer any question that you may have. Besides teaching in classes, we are also required to attend bi-monthly RCIA Group meetings, enrichment trainings, formations, and spiritual talks. Our experience shows that teaching faith is quite different from pure academic type of teaching. RCIA is a very challenging, exciting and, most of all, a very rewarding ministry. We look forward to meeting you.
For inquiries, email us: stagneskouyingtsao@archtoronto.org