[按此瀏覽 建堂過程簡介 - 中文版 ]
[ 聖堂資料 / Building Fact ]
The Blessed Agnes Kouying Tsao Catholic Mission was established in 1992 by Rev. Fr. Nicola Ruggiero, P.I.M.E., an Italian missionary preaching in Hong Kong. Agnes Tsao died in 1853 in China for defending her faith. She was beatified in 1900 by Pope Leo XIII and canonized on October 1,2000 by Pope John Paul II. The Parish was then renamed Saint Agnes Kouying Tsao.
In 1992, Fr. Nicola Ruggiero accepted the mission of looking after the Chinese Catholic Community in Toronto. In June 1992 Fr. Ruggiero filed an application for establishing a Catholic Mission and permission was granted by the Archdiocese of Toronto. We celebrated our first Mass on December 6, 1992 at Christ the King Catholic Elementry School. A week later, on December 15, 1992, the Parish Title "Blessed Agnes Tsao Kouying" was approved by the Archdiocese of Toronto. Two days later, the Decree of Establishment was granted.
In light of the rapidly growing number of Chinese landed immigrants in the Greater Toronto Area, Fr. Ruggiero foresaw the need for a church serving primarily this ethnic community. In June 1993, Fr. Ruggiero filed an application for a site to build a new church. Our prayer was answered on November 3, 1993. A permit was granted to set aside a 2-acre site at our current location. Fr. Ruggiero immediately started the fund raising campaign and conceptual design.
In August 1997, an architect Mr. David Sin was appointed to design the new church. With confidence and hope, the dream of having our own church was within sight. Unfortunately, Fr.Ruggiero's health prohibited him to continue and he had to retire in Italy in late 1998.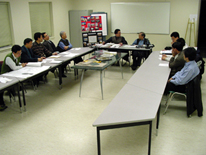 In November 1998, at the request of the Archdiocese of Toronto, Fr. Dominic Kong was transferred from Hong Kong to succeed Fr. Ruggiero as the new Pastor. Upon arrival, Fr. Kong immediately continued the path of his predecessor. The church construction plan and fund raising campaign were injected with new energy and spirit.
In September 1999, the church construction plan was approved by the local authorities and the parish Church Building Committee was formed at the request of Fr. Kong. Professionals and experts such as architects, engineers, lawyers, chartered accounts, project consultants, and systems mangers were invited to volunteer to share their experience.
The church site was blessed by Bishop Robert Clune on July 31, 2000. The weather was not cooperative but it did not dampen the enthusiasms and hope of the 400+ attendees.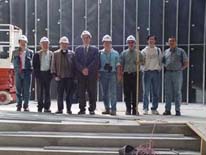 The actual construction contract consisted of two phases since funds for the whole project could not be raised in time when tenders were called. The first phase began on August 24,2000, which included the construction of the main church, activity hall, classrooms and the pastor quarter. The first phase was completed in August 2001. The second phase, which included the office, internal fixtures and decors, began in December 2001 and was completed in April of 2002.
While construction of phase two was still underway, it would not affect Mass celebrations within the church area. Upon receiving the occupancy permit from the local authorities, Fr. Kong decided to celebrate our First Mass on December 22, 2001 and Mid Night Mass of 2001 was also celebrated in the new church.
Saint Agnes Kouying Tsao Catholic Church crossed into a new era on September 22, 2002 when His Eminence Aloysius Cardinal Ambrozic, Archdiocese of Toronto celebrated the Parish 10th Anniversary and Consecration Mass.