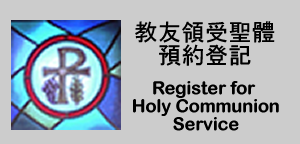 給教友施放聖體
遵照安省政府停止所有非必要服務的規定,所有彌撒將會由4月19日起取消,直至另行通知。
在封城期間,聖堂於每星期六及星期日下午 3時至5 時給本堂教友施放聖體。由於只能容許 10人在教堂內,包括神父及服務人員, 故每 15 分鐘時段內,只可讓 8 位教友領聖體。請教友連接 Eventbrite 網站 預約時段。每週逢星期二,上午 10 時開放網上登記。 預約時段。
詳情如下:
日期: 5月15日(星期六) 及 16日 (星期日)
時間: 下午 3 時至5 時,每 15 分鐘時段內,只可讓 8 位教友領聖體。
網上登記開放:2021年5月11日,星期二,上午10:00
注意:如果網站要求您輸入密碼,即表示網上登記的服務尚未開始。請稍等!感謝您的耐心等待。
---
Holy Communion Service
To comply with the Ontario Government's regulation of suspending all non-essential workplaces, all in-person masses will be cancelled starting from Monday, April 19 until further notice.
During this lockdown period, our Parish will provide Holy Communion Services to our parishioners every Saturday and Sunday between 3:00 p.m. and 5:00 p.m. With the capacity restriction of 10 people, including priests and staff, inside the church at any given time, only 8 persons will be allowed to receive Holy Communion within a time slot of 15 minutes. Please register through Eventbrite website. Reservation starts every Tuesday at 10:00am.
Detailed arrangement:
Date: May 15 (Saturday) & May 16 (Sunday)
Time: 3:00pm - 5:00pm. Only 8 persons will be allowed within a timeslot of 15 minutes
Open for Reservation: 10:00 am, Tuesday, May 11, 2021
Note: if you are asked for a password, it means the online registration for the Holy Communion Service is not open yet. Please wait! Thank you for your patience.